Kids subscription boxes are so popular these days so I thought I would start highlighting a few. Subscription boxes let you try out cool new products without all the searching, shopping and deal finding. Citrus Lane is a a subscription box for newborns to age 3 that is perfect for new parents or as a gift. They even offer gift subscriptions for 2, 3, 6 months and even a year. I would have loved receiving a gift like this when my girls were little.
How does it work?
Select the plan that works best for you and your little one. Plans start as low as $19 per month.Tell them your little one's age (from newborn to 3) so they pick just the right products for your box. They deliver a special box to your door every month…and shipping is free!
They separate the boxes like this
Infant (0-5 Months)

Crawler (6-12 Months)
Toddler (13-24 Months)
Preschooler (2 Plus Years)
If you are considering trying it out you can use the Citrus Lane coupon code BLOGHALF for 50% off on the first box. That means you can grab a box for a bargain price to try it out.  One month, every box came with Green Toys. This is a great upscale eco friendly toy brand. I love the Skip Hop lunch box that was featured in  a Toddler Box.
The program is month to month and you can cancel at anytime with no penalty.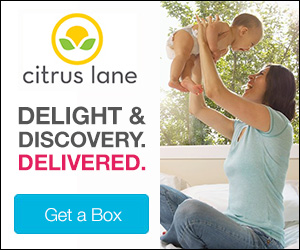 Learn How to Save Time & Money This Holiday Season
Want to enjoy the holidays more this year with less stress?

Sign up for our free email class which will help you save time and money AND reduce holiday stress. We will help you with planning and savings tips plus gift ideas for everyone on your list. The free class starts November 1st but you can sign up today!