This is a Sponsored post written by me on behalf of American Frozen Foods Institute and the Frozen Food Roundtable for SocialSpark. All opinions are 100% mine.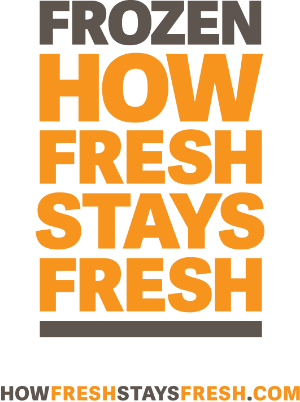 Feeding your family delicious and healthy meals is important to most moms including me.  I make a meal plan each week and make sure that we have ingredients on hand so we don't have to run out to grab a pizza or fast food. Not only is that expensive but it isn't a healthy option for you either.
I often incorporate frozen foods in our busy schedules. I love that since food is frozen in seconds at temperatures well below zero degrees, it immediately locks in nutrients and flavors until your food is ready to be enjoyed. Freezing is nature's pause button and one of the most trusted ways to keep foods fresh. Freezing keeps just picked, just baked and just crafted foods at their peak of freshness. Learn more about fresh vs frozen foods and Frozen. How Fresh Stays Fresh here.
I often will add a frozen side to help me get dinner on the table more quickly. Every one in my family loves these sweet potato fries. Just last week, while my husband was grilling burgers I popped the fries in the oven and made some coleslaw.  Frozen foods allow today's busy families to spend less time apart and more time enjoying wholesome, tasty meals around the dinner table. This is just one of the benefits of frozen foods.
I try to always eat dinner as a family, but like many of you my kids are in activities that are right at the meal time. My daughter will sometimes pop in Bagel Bites to eat as a hearty snack before dance class. I love that she can even cook them herself.
Some days things get so hectic that you have to throw your meal plan right out the window. On those days, I love knowing that I have something easy to prepare in the freezer. I often keep a frozen pizza,  and some mac & cheese on hand.  This helps get dinner on the table quickly and easily. You can even make it look fancy of you want. No one needs to know it come from a box.
Getting everyone ready for school or camp and out the door can be a challenge. We always keep frozen breakfast foods on hand.
My youngest daughter loves these Jimmy Dean sausage biscuits. She is a slow mover in the morning and she often will eat one during the car ride to school. I love that she gets a bit of protein to keep her satisfied until lunch time.  My older daughter is a Eggo French Toaster Sticks fan.
One more benefit of frozen foods has to do with my favorite food group… dessert. 🙂 I don't always have the most willpower around dessert so I love that these are preportioned and you can have some sweets once in awhile but are not left with a whole pie in your home.
So do you use frozen foods in your meal plan? What are your favorite frozen foods?
Subscribe to the News
Like what you see here? Be sure to sign up to get the latest right in your inbox.