Every since my girls were little I have loved buying Gymboree clothing for them. Gymboree always has such fun lines of clothing. They come out with many many lines throughout the year so it is very difficult not to find something you like at Gymboree. They also have great sales and great quality. It is hard to beat.
I love  the idea of having different lines because if you pick a few pieces from a line you can mix and match and have lots and lots of fun outfits. Gymboree provided us some credit to go shopping and my 8 year old young daughter picked out a few fun outfits. We picked out  the Fun in the Sunshine Tee, Striped Tank , Solid Skort and Pinwheel Ribbon Barrette. Since these were all from the same line, the colors matched perfectly. I love skorts for summer and so does my daughter. They are fancy but practical. I love that!
These are way way marked down right now so this is a great time to buy. I am considering grabbing these super cute Striped French Terry Shorts to mix and match.
It looks like my girl is sure having   Fun in the Sunshine !
Gymboree just came out with their Fourth of July Kids clothing. This is a great time to pick up a cute outfit. I promise these will all be picked over by the time July rolls around.
Above is a super cute boys Fourth of July Outfit.    I especially love the U.S.A. Patchwork Shorts for little boys   and U.S.A. Patchwork Shorts for older boys.
This girl Fourth of July outfit is just adorable! It is the America's Sweetheart Tee, Patriotic Dots Shorts, Patriotic Streamer Pony Holder and Patriotic Bow Flip Flops,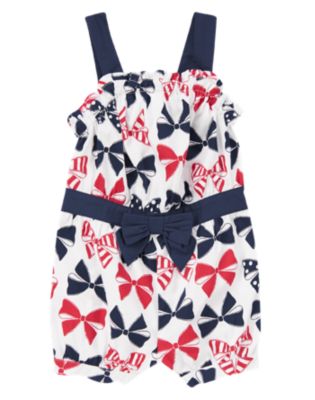 For little ones how can you resist this adorable Fourth of July Romper!
Disclosure: Gymboree provided us credit in order to review and purchase some Gymboree clothing. All thoughts and opinions are my own. I have purchased way more than my fair share of Gymboree clothing in the past. 
Free DIY Mini Capsule Wardrobe Guide
Sign up to grab your free How to Make Your own Mini Capsule Wardrobe Guide.