Check out these Clutter Free Gift Ideas! Why keep giving people more "stuff" when you can gift them with ways to make memories and have fun instead?
This list of Clutter-free holiday gift ideas just might make you rethink everything that you've ever done previously when it comes to Christmas or another holiday. Experience gifts and subscription boxes make great gifts. many of these are great last-minute gift ideas as well!
Make certain to check out the master list of Gift Ideas for everyone on your list for more unique and fun gift ideas.
The holidays are a wonderful time of the year. It's a time for giving gifts, spending time with one another, and making amazing memories that can easily last a lifetime. But this year, why not try something different. Instead of loading someone up with gifts that they may or may not want, why not try one of these simple clutter-free holiday gifts instead?
What you'll find from this list of gift ideas is that they're all easy and fun to do. Why spend hours at the store searching for a gift that they "may or may not" like and give them something that you know they'll love instead?
This list of holiday gifts is a great way to give them a gift that they can enjoy much longer than a toy or any other stationery item.
Clutter-Free Gift Ideas
The great thing about giving gifts that aren't materialistic is that you can always easily add to this list! These gift ideas are easy to do and won't take long at all.
Some examples of holiday gifts that are clutter-free are:
Experience Gift Ideas
City Pass offers the very best attractions in the very best cities across North America, with a savings of up to half off the price of separate admission. They purposely designed CityPASS to include a limited number of the most popular attractions, assuring a great experience that makes the most of every minute, without a ton of research needed. You can buy a voucher to gift.
Looking for a way to see lots of attractions on big cities. Hop on Hop Off Bus Tours makes a great gift. Many international cities have these bus tours but there are a bunch of cities in the United States too including
Miami
New York
San Antonio
Las Vegas
Philadelphia
New Orleans
Seattle
Washington DC
Hollywood – Los Angeles
San Francisco
Learn more about Hop On Hop Off Bus Tours Here
Magazine Subscription Gift
A Magazine subscription can make a great last-minute holiday gift and it even includes a free e-card. No matter their interest there is sure to be a magazine they would love and they will remember your thoughtful gift each time they receivesthe latest copy.
Subscription Box Gifts
A subscription box can be the perfect last-minute gift. Here are a few of our favorites.
Does your gift recipient love to travel and try new foods? Then the Univeral Yums box is the perfect gift. A variety of sweet and salty snacks are specially brought in from a different country every month.
The gift subscriptions can be given for just one month or up to a year depending on how much you want to spend.
Learn more about Universal Yums here
This box of delicious healthier snacks is a great edible gift. You can gift a membership for 3, 6, or 12 months. Simply sign-up here and tell them where to send the Love With Food Box! And if you'd like to be extra nice, you can also send a Deluxe box gift. They will be sure to send a message (via email) to the gift recipient right when you place the order. If you don't want to let them know about the gift, don't fill out that note section! Leave it blank! Also, all tracking and shipping information will be sent to the gift recipient's email address when the box ships on the 10th of the month. Double check and make sure they're able to enjoy the surprise!
Learn more about Snack Nation here
Can't celebrate in person? Give your gift receipt a choice of books — and something to talk about — 'til you can. You can gift a 3 , 6 or 12 month book subscription. Get a last-minute gift and you'll have it right on time for the holiday.
Learn more about Book of the Month Club Here
Give awesome socks delivered monthly. A Sock Fancy sock subscription features a huge selection of unique, awe-inspiring, and sometimes bizarre socks. But don't let their whimsical nature fool you – they take quality and comfort very seriously. All their socks are made from high-quality cotton blends on a 200-count needle machine, guaranteed to last numerous slides down the hallway, Tom Cruise style. These soft cotton blends ensure a more comfortable fit and a sock that won't shrink after a few washes. Choose between a 3, 6, or 12-month gift subscription.
Learn more about Sock Fancy Here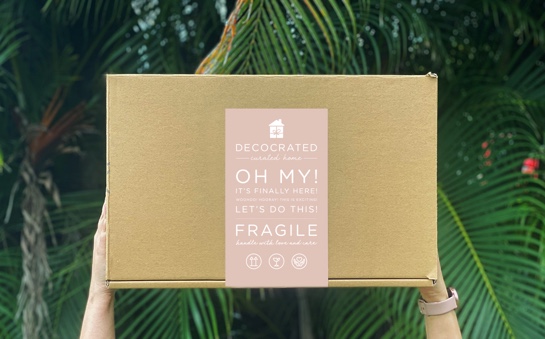 Give the gift of Decocrated! Be the best gift-giver EVER and send them either a quarterly or annual subscription! Every season, they send a limited edition box that contains timeless, high-quality décor. The recipient gets your gift via email instantly or at a date of your choosing once you go through checkout.
Learn more about Decocrated Here
Kit Clubs are designed for every type, flavor, and level of crafter. From woodworking to beading, knitting to card-making, Annie's has just the project for you. When you join one of our Kit Clubs, ready-to-go craft kits are mailed straight to your home on a regular basis—no prep work required. The crafting experts at Annie's package the materials and instructions for each project
Learn more about Annie Craft Kit Subscriptions
Give the gift that keeps on giving. This is the perfect gift to all beauty-loving moms, delivering a monthly edit of 5 must-have beauty products every month. What is more beautiful than a surprise that doesn't end after the first time? Perfectly packaged in our signature box, the expert team at GLOSSYBOX curates every beauty box, vetting each brand to the highest quality standards and ensuring every product selection is the must-have beauty product. What are you waiting for? Give the gift of GLOSSYBOX…
* The gift voucher is purely electronic and will be sent via e-mail to your chosen gift recipient.
GLOSSYBOX is also now giving you an offer on Gift Vouchers to send to your now that you can't be there in person.
Online Classes Access Gift
With MasterClass, they make it possible for anyone in the world to learn from the very best. They offer online classes taught by instructors famous for their craft—Anna Wintour, Gordon Ramsay, Shonda Rhimes, Howard Schultz and so many more. Their classes combine incredible video content, interactive assignments, and social interaction with the MasterClass community. Plus right now they have an offer where you can give an unlimited membership and get another free so you can give one to and keep one for yourself. That seems like a win win!
Learn more about Masterclass here
Membership Gift Ideas
A membership makes a great gift. A zoo or museum membership is a great gift for families.
A streaming membership makes a great gift as well. A few great options are
 Homemade Gift ideas
These Reindeer Hot Chocolate Cones make a great easy and cute DIY gift.
Gifts in a Jar are always a hit including
Peppermint Hot Chocolate in A Jar
These cute hair ties are easy to make and a fun and useful DIY gift.
And the list could go on and on. When you're thinking about items that are clutter-free and don't take up a ton of space, this is the list you need. Print off this printable PDF and keep it handy as you're starting to think about all the fun holiday shopping. Because this is the year to make memories or give people the chance to work on their craft!
As you can see from the picture below, there are so many things that you can give besides gifts that are just going to take up space.
Why Less is More
The world that we live in is full of "stuff". And everywhere we look, all we see is a ton of stuff that just isn't getting used. Why add to those piles when there's a whole world waiting past the stacks and stacks of items?
Now is the time to give people items that they can use, learn from, eat and enjoy, or branch out and try something new. Giving them the gift of being able to enjoy the day is one of the best gift ideas, ever!
All you have to do is print, read, and start making out your own holiday list! Be like Santa and check it twice!
And if you don't want to gift them a clutter-free gift, you can print off a voucher and fill that out instead. This lets you really customize your gift and write out exactly what you're gifting them!
Don't forget to check out more gift ideas here
Subscribe to the News
Like what you see here? Get free printables and tips! Be sure to sign up to get the latest right in your inbox.